Costa Rica is a diverse country endowed with beautiful landscapes, topography, and sceneries. The Manuel Antonio National Park, the Monteverde cloud forest and Guanacaste beaches are only the beginning of the extraordinary experiences you'll have on your trip to this Central American country.
Despite the promising adventures tourists looking forward to a holiday in Costa Rica are bound to make, one of the questions that many of them ask themselves is, "How safe is it to rent and drive a car in Costa Rica?". The simple answer to that question is, yes, renting and driving a car in Costa Rica is safe. Out of all the 12 countries in the region, Costa Rica is the safest. The country ranks high in the list of the safest countries for American citizens to visit, according to the US State Department. With that said, you should really rent a car in costa rica with Jumbo Car next time you visit this magnificent country.
Rental Cars in Costa Rica
If you want to have a stress-free holiday in Costa Rica, renting a car for self-drive is the best option. With a rental vehicle, you can change your travel arrangements and departure times and make stops along the way during your vacation. However, you should be prepared to encounter petty thieves who will break into your rented car to steal your luggage and belongings if you leave them exposed.
Apart from worrying about your safety, there are several things you also need to consider when renting a car in Costa Rica.
Road Conditions
As a visitor to Costa Rica, you will be driving on roads you haven't been on before. Driving conditions in Costa Rica can range from smooth freeways to muddy country roads with dangerous river crossings. Therefore, you need to be prepared to encounter problems. Do not be fooled by the seemingly perfect roadways around Costa Rica's capital city of San Jose. After you leave the city, things can change dramatically to your disadvantage.
Costa Rica's topography can be rough. The terrain can be challenging to transverse with either a back-wheel or front-wheel-drive car. The best way to get around the country's treacherous roads is by renting a four-wheel-drive SUV with high clearance.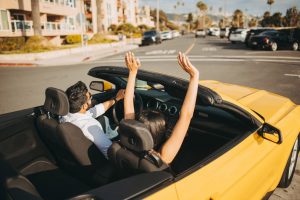 Flooding and Mudslides
The rainy season in Costa Rica occurs between May and November. Washouts and landslides can occur during this time. This sort of thing happens more frequently on certain roads than others. Therefore, when it rains during a vacation in Costa Rica, ensure you gather enough information about the current conditions before hitting the roads.
Navigating Costa Rican roads
In Costa Rica, navigating the highways can be a challenge. Roads in this Central American country have inadequate road signage, resulting in you getting lost or driving in circles. As for speed limits, they are in kilometres. Therefore, before booking a flight to Costa Rica for a vacation, it is important you acquaint yourself with the metric system to have an easy time driving on this country's roads. Most visitors definitely require a GPS to get between places.
Conclusion
Is renting a car and driving in Costa Rica safe? Definitely yes, Costa Rica is the safest country in the Central American region, and the US State Department strongly concur. On a visit to Costa Rica, the best way to get around the country is by renting a car and driving yourself. A 4WD SUV car with high clearance is the best rental option if you plan on going into rough terrains. With a car rental, you'll have the freedom to choose and alter your travel plans and departure times and make stops along the way.